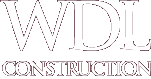 Projects
Eisenhower Medical Center Central Plant
The $26 million Eisenhower Medical Center Central Plant is one of the largest and most innovative plants in the institutional world. Though not glamorous, the Central Plant was an exciting and challenging construction project. It consists of two 2.5 megawatt cogeneration engines that supply all the electricity required to run the 100-acre medical center.
The plant also provides high-pressure steam, chilled water via a 2,000-ton absorption chiller, a 2,100-ton hybrid centrifugal chiller configuration and a four-megawatt emergency power supply with high-voltage electric service. The site distribution system involves steam, normal power, emergency power and direct-burial chilled-water piping.
Two 2.5 megawatt Jenebacher cogeneration modules deliver prime power to the campus. Steam produced from recovered heat is used at the plant's absorption chillers and for hospital requirements. Low-temperature recovered heat provides domestic heating and hot water.
Special attention was paid to mitigation factors during construction. The surrounding community was concerned about many aspects from the noise to the height. In response, the building footprint was moved back, mechanical elements usually placed on rooftops were moved inside and many creative acoustical elements were incorporated to lessen the effect of operational noise on the medical campus and surrounding neighborhood.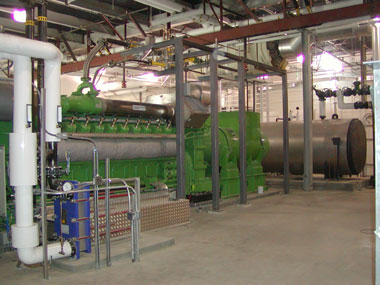 back